VIKING LIGHTING supports the field hospital
2020-04-10
Lisbon, Portugal
April 2020
#COVID-19
Support in the fight with #COVID-19
VIKING LIGHTING supported the field hospital in Portugal in 2020. The VIKING LIGHTING manufacturer actively supports the creation of a field hospital in Portugal. In support, VIKING LIGHTING sent portable lighting kits to Lisbon. #TODOSPORUMHOSPITAL is an initiative of Cruz de Malta Portugal, which together with the RTP (Portuguese TV), seeks donations for the construction of a temporary hospital with more than 200 beds to strengthen the local reference unit in the fight against #COVID-19.
Public donations #TODOSPORUMHOSPITAL
Portuguese organization Cruz De Malta together with the television RTP has organized a public collection of donations. The aim is to encourage people and companies who want to support Portuguese Health and National Security Professionals. Therefore, they seek donations for the construction of a Field Hospital with more than 200 beds. As a result, it will be easier to fight against COVID-19 in Lisbon, Portugal.
VIKING LIGHTING supported the field hospital
VIKING LIGHTING is well known for its portable lighting sets. Because of that, we have delivered our LED VIKING Lighting sets to the newly established medical points in Lisbon.
The setting up of this field hospital will be done within Campo Pequeno. Its management will be under the coordination of Hospital Curry Cabral. The field hospital will operate within Campo Pequeno and its management will be coordinated by Hospital Curry Cabral.
In 2020, during the containment phase of the coronavirus pandemic, Curry Cabral Hospital (together with Hospital de Dona Estefânia for Pediatric Cases in Lisbon and Hospital de São João in Porto) was one of the three first-line reference hospitals for the diagnosis and treatment of COVID-19 19. Later, many more second-line hospitals were opened across the country until the mitigation phase.
Curry Cabral Hospital is managing to meet the needs in the Lisbon area now. However, they need equipment, such as the 26 field tents, with a capacity for 200 beds. Cruz de Malta, with the help of all, will allow medical personnel to treat more patients. Similar to other countries, in Portugal, the number of suffering from #COVID-19 is still very high.
Why it is worth having VIKING Lighting in medical tents?
Doctors and nurses need to work in a comfortable light environment. With the use of VIKING LIGHTING, they can do their daily routines efficiently. Moreover, they can run some medical procedures like injections.
Even though the patients and medical personnel are in tents, the VIKING LIGHTING gives them a white bright light. Most importantly, the unique feature is glare-free lighting. This is important for those who work long hours and are engaged in activities where precision is required.
[caption id="attachment_2455" align="alignnone" width="219"]
Viking Lighting in the medical tents of Cruz de Malta
[/caption]
VIKING LIGHTING can be easily moved from one place to another. In addition, the lighting can be mounted in tents or at the masts. Please see some applications of mast sets https://vikinglighting.com/en/akcesorium/tripode-mast-yellow/
We encourage everyone to support the #TodosPorumHospital !
For more information please see: https://media.rtp.pt/extra/eventos/todosporumhospital/
VIKING LIGHTING in medical tents in France
2020-03-26
Miluza, France
March 2020
#COVID-19
Support for the fight with the Covid-19 
We are proud to inform you that VIKING LIGHTING in medical tents n France. The French army has equipped its military-medical tents with VIKING LIGHTING.  In order to cope with the #CoronaVirus, the French authorities have developed temporary hospitals located in tents. The special medical tents have been supplied with VIKING LIGHTING.
VIKING LIGHTING is a source of bright but glare-free light. The light stream is shadeless. Because of these features, the work of medical personnel is more comfortable. We encourage you to watch French TV or the Polish TV TVN24 news. The link to the tv is at the end of the news.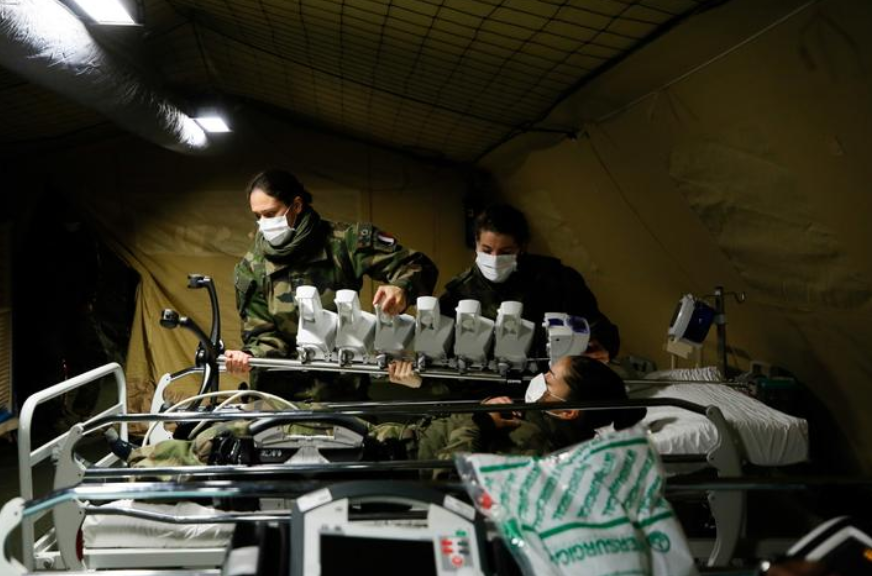 Special military camp developed in France
In connection with the #koronavirus epidemic, French armed forces are setting up some field hospitals. Field hospitals are already developed in Miluza and Malhouse, France. Additional coverage in the link https://www.france24.com/en/20200324-french-military-field-hospital-starts-unprecedented-peacetime-operations-to-combat-coronavirus
Hospital tents have sections for patient registration and treatment. VIKING Lighting has been used in field hospitals for over 20 years. The portable lightweight lamp holder is very often used as temporary lighting.
Depending on the customer's requirements, and in the case of field hospitals, the requirements of the army, Viking lighting can have a LED light source or traditional fluorescent tubes.
Why it is worth using VIKING LIGHTING in medical tents?
The aluminum housing does not heat up and therefore the lighting is safe. Medical services appreciate bright, white light worth 4000K, which is the equivalent of natural light. The lamp has a milky shade that helps doctors and medical personnel because they are not exposed to the glaring effect. The light generated by VIKING Lighting is shadowless.
As a result of that feature, it is easier to take care of patients and perform minor medical procedures.
In medical tents and field hospitals, VIKING lighting is hung in series. Thanks to an additional plug mounted on the lamp housing, VIKING lighting can be easily connected in series. This design allows you to connect one lamp to another, for more information click on the link: https://vikinglighting.com/en/zestawy/viking-lighting-for-defense-forces/set-no-3-army/
In medical tents and field hospitals, VIKING Lighting is daisy-chained. This is possible thanks to an additional plug mounted on the lamp housing. The plug allows you to connect one lamp to another.
We usually also supply additional power cords, extension cords, and adapters to the conditions of the place where the lamps are used.
Teknoprod AB is the producer of VIKING LIGHTING and provides lamps with plugs and contacts adapted to your region/country.
VIKING LIGHTING equipped military hospitals with special lamps. Since 2020 the lighting used in field hospitals in France has plugs adapted to French standards.
Link to the Polish news https://tvn24.pl/swiat/pandemia-covid-19-szpitale-polowe-na-swiecie-budowane-do-walki-z-koronawirusem-4513885