VIKING LIGHTING on pneumatic mast of SVEP
2020-10-04
VIKING LIGHTING
on pneumatic mast
developed by the SVEP company
So far, the VIKING LIGHTING was mounted on a fixed
mast
. Recently, we have put the  VIKING LIGHTING
on
a pneumatic mast
developed by the
SVEP
company. Such masts can be used indoors, e.g. in workshops or garages, or outdoors as lighting for the event or construction site, or repair works.
New in our offer
Now we offer VIKING LIGHTING on the pneumatic mast. We've mounted two VIKING LIGHTING pieces on a pneumatic mast, which is a product of SVEP. Because the SVEP company from Bielsko-Biała, Poland proposed an interesting solution that allows the mast to be extended to a height of up to 5 meters.
VIKING +SVEP solution
[caption id="attachment_2266" align="alignleft" width="187"]
pic. VIKING LIGHTING on the SVEP mast
[/caption]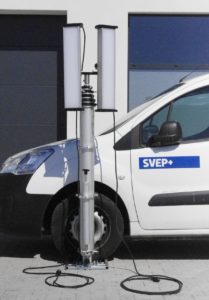 The
SVEP's masts
are designed by engineers as a modern construction with fully automated folding. Firstly, the new solution is advanced but secondly, it is easy to operate by one person only.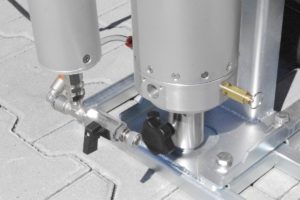 pneumatic mast
[caption id="attachment_2264" align="alignnone" width="300"]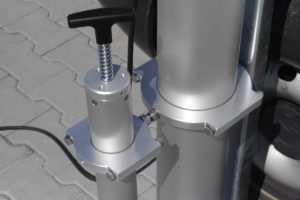 mechanism of the mast for VIKING LIGHTING
[/caption] [caption id="attachment_2269" align="alignnone" width="300"]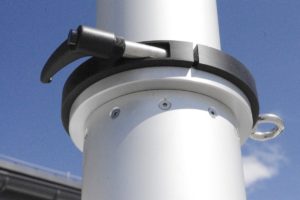 mechanism of the mast for VIKING LIGHTING[/caption] The above-presented set is equipped with the VIKING LIGHTING LED type 230. For more details on this type of lighting please go to
https://vikinglighting.com/pl/produkt/lampa-viking-l30110-230vac/
However, any type of VIKING LIGHTING can be attached to this type of mast, depending on the user's needs. For instance, the VIKING LIGHTING has an oil-resistant cable with a length of 5, 7, or 10 meters. Therefore, it is fitting the SVEP mast. We can supply VIKING LIGHTING with a cable of a different length or with different parameters.  It is possible because we are the manufacturer of lighting equipment. The SVEP mast can be folded to a transport size, for example, a bag, as shown in the photo below. In effect of mast folding the dimension allows the mast to be transported even in a passenger car. [caption id="attachment_2270" align="alignnone" width="300"]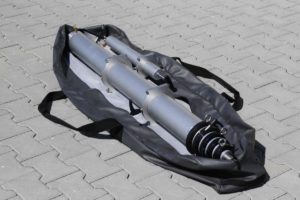 portable mast
[/caption]
Why is it worth choosing this solution?
Together with the VIKING LIGHTING portable set, you can get a lighting solution useful for many outdoor works. Very light construction. As a result, it is easy to transport and use. In addition, it is noteworthy that the entire mast is very aesthetically made and works quietly. Such a mast can be successfully used for minor repairs both outside. For example for repairing equipment at a height. In the case of indoor work, such as in production halls or warehouses our solution will also be an effective and economical one. Summarizing, VIKING LIGHTING on the SVEP mast proves to be a very good tool
for people who provide services in various places.
Moreover, those who do not want to waste time on unfolding and folding complicated platforms. For more details on the mast by SVEP please visit 
http://www.svep.pl/aktualnosci/
VIKING LIGHTING Research on LED lamps
2020-01-28
Lichen, Poland
28-29 November 2019
research on LED lighting
 Research on LED lamps
On November 28 and 29, 2019, Teknopor AB participated in
the XII Conference on Repair and Maintenance Issues in Energy Sector.
The conference was held in Licheń, Poland. 
More information in the link: https://www.kierunekenergetyka.pl/konferencja,2098,61715.html
During the event, several topics related to maintenance prevailed. Several repair solutions were presented.
Moreover, diagnostics of electromechanical systems, control systems, and supervision of the energy production process were discussed.
Our representatives have presented the results of the recent research on VIKING LIGHTING with LED sources of light run by the Teknoprod Group.
The typical product for repair is the compact lighting L212 https://vikinglighting.com/en/produkt/viking-l21224v-acdc/
[caption id="" align="aligncenter" width="476"]

conference logo
[/caption]