VIKING LIGHTING with battery backup
Art. nr. L220023805100/C
VIKING LIGHTING with battery backup
Key features
Luminous flow efficiency (2200 lumens) is suitable for battery-operated lamps with an opal shade.
If the customer wants higher scores, we can use a transparent screen. In this case, the actual light flow will reach the level of 3300 lumens.
We usually produce white natural light lighting with a color temperature of 4000K.
However, the lighting can be adjusted to warmer or colder colors of light.
In addition to its functions, this luminaire is very practical to use.
Application
Due to its efficiency, we recommend the use of VIKING Lighting L220 LED with battery backup in tents. It can also be used inside buildings, e.g. in corridors.
The oil-resistant cable with a length of 8 meters works well in difficult conditions. However, at the customer's request, we can modify the length of the cable or its parameters.
Difficult conditions include not only an oily floor surface but also muddy or wet surfaces.
Secondly, this lighting can be easily connected in series through an additional socket.
The length of the lighting chain depends on the type of cable.
Other possible customizations
VIKING LIGHTING is used in many countries where national standards for plugs and sockets vary.
Because we are the manufacturer, we can equip the lighting with the socket or plug required for a specific application or in a specific country.
We invite you to familiarize yourself with another interesting solution for LED lighting, which is L230 110-230 AC, https://vikinglighting.com/en/produkt/viking-l110220-230vac/.
The latter product is quite versatile in terms of voltage.
To sum up, we recommend the L220 LED with battery backup for use in large temporary structures, where the user wants to obtain white, natural light.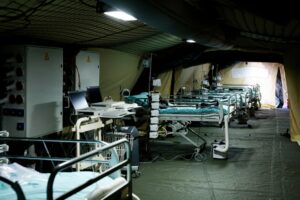 Light Color / Temperature

4000 K

Life length for light sources

40000 h

Measurements (mm)

480x180x128

Colour Rendering Index

CRI>80

Cabel

5 m, odporny na olej, H07RN-F 3G1,5