2022-10-17
VIKING at the Elmässan
Kista, Stockholm, Sweden
19th and 20th of October 2022
booth N-00
About Elmässan
VIKING LIGHTING will be present at the Elmässan 2022. Elmässan is a place where being actively involved in the electrical and lighting industry.  You can discover the latest information on products and innovations from over 200 suppliers of installations, lighting, and fiber optics!
Elmässan is the largest lighting and installation fair in Northern Europe and takes place at the Kistamässan exhibition center in Stockholm-Kista, Sweden. We think that the Elmässan is by far the best platform for finding new products that improve comfort and safety at work. Because VIKING LIGHTING is such a product it will once again be presented at Elmässan. This time we'll present lighting with a motion sensor.
At our booth, you can test, touch, and feel the latest innovations before making a purchase. In addition, you can provide direct feedback on products and services directly to the manufacturer. This means you can participate in and influence the development of new products that simplify your daily life and make your work easier.
Where and when
Dates: October 19-20, 2022
Booth: Visit us in Hall N, booth 00 at the Teknoprod AB Group booth.
Visiting address: Kistamässan, Arne Beurlings Torg 5, SE-164 40 Kista, Sweden
Fair opening hours:
Wednesday 19 October 9.00-17.00
Thursday, October 20, 9.00-16.00
Our offer on Elmässan
Our product dedicated to the electricians is VIKING LIGHTING LED lighting model L230 IP54 with a motion sensor.
Moreover, Unischuko plug and socket are also made in IP54.
More information at the link: https://vikinglighting.com/pl/produkt/viking-l230-led-z-czujniku-ruchu-klasa-bezpiecznosci-ip54/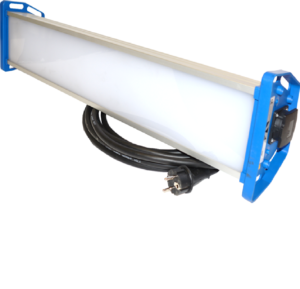 This VIKING LIGHTING lighting has a special motion sensor that is sensitive to movements in the dark. This is why, we strongly recommend it for use on construction sites. For example, the lighting can be mounted on a housing or tool container, and the light turns on when a person approaches. In addition, our lighting can be used outdoors. It is possible because this product is resistant to moisture and resistant to splashes, e.g. mud, impact, damage, and vibrations.
VIKING LIGHTING has been tested for resistance to high and low temperatures. The components used for VIKING LIGHTING allow the lighting to work efficiently in extreme ambient temperatures. Therefore, with this equipment we assure efficient work in temperatures from minus 30 ° C to plus 50 ° C.
Please note that a light but durable aluminum case with side covers made of shock-absorbing SBS material makes the lighting durable. Additionally, the 10-meter oil-resistant cable makes VIKING LIGHTING practical inside and outside.
Features of VIKING LIGHTING
VIKING LIGHTING lighting can be used indoors due to low heat emission. It is very important to know that the glare-free light of the lamp gives you the comfort of work.
On the other hand, the use of long-life light sources allows for more effective work.
Our lighting equipment and accessories are designed for professional users working in difficult conditions. Therefore, VIKING LIGHTING is an ideal solution for use in the construction industry. In addition, we recommend it for warehouses, shelters, civil and military tents, workshops, and construction equipment rentals.
We are the VIKING LIGHTING manufacturer. Because of that, we can make modifications and changes required by the user.
Serial connection 
Several VIKING LIGHTING lamps can be connected together with an additional socket.
Our story
VIKING LIGHTING was designed by Kjell Wallin, Swede, in Sweden in 1989. Since then, our lighting has been used by electricians in the civil and military services in Sweden, other Scandinavian countries, and many other places around the world. Primarily, where the type of work requires bright light and working conditions are extreme.
Visit us in Hall N, booth 00 at the Teknoprod AB Group booth!
Producer