2020-01-28
VIKING LIGHTING tested in the horse stable
VIKING LIGHTING TESTED IN A HORSE STABLE
Test of LED 212 lamp
Recently, VIKING Lighting has been a great help in breeding horses.
VIKING is the lighting tested in the stable. The employees of the horse farm near Warsaw found out about it.
We got information about their opinion after the tests in the stable.
In the stable, we deal with moisture, mud, and dust. Firstly, VIKING lamps work reliably in such an environment.
Several types of VIKING Lighting are made in the IP54 class.
This means it can withstand dust, dirt, and moisture. VIKING Lighting works well in high humid conditions, in dust, and thus in a horse stable.
People who work with animals have the comfort of work because VIKING gives a bright but not dazzling light.
Secondly, the light is natural white with a color temperature of 4000°K.
The light but durable housing of the lamp helps when working with live, mobile animals.
For more information, please visit the product website https://vikinglighting.com/en/produkt/viking-l212110-230vac/
Unique features for stable
The shadowless VIKING fixtures facilitate all the precise jobs. Previously, our lighting was tested in a horse clinic in Sweden.
The experience of veterinarians in Scandinavian countries shows that VIKING lighting helps in performing medical procedures and caring for sick horses.
VIKING Lighting provides shadowless light. Therefore, it is easier to perform work that requires precision.
For sales in Sweden, please contact https://vikinglighting.com/sv/ring-oss-idag/. 
Easy use of L212
In the stable, we can use VIKING Lighting on a workshop stand https://vikinglighting.com/en/akcesorium/workshop-stand-compatible-with-all-lamps-viking/
VIKING offers several types of stands and tripods. In the stable, you can also use a portable stand made of steel.
Additionally, coated steel stands are available https://vikinglighting.com/pl/zestawy/workshops/workshop-kit-number-1/ .
These stands have wheels and a metal shelf attached.
Thanks to this solution, you can leave the equipment for animal care on the shelf and move the joints inside the stable.
We can also mount the lamp on a magnetic holder, as shown in the photo below.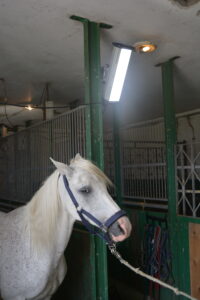 A stable with a lamp on a magnetic holder can quickly be moved to another place.
You can mount the VIKING lamp wherever there is a surface that will hold the magnet.
On the other hand, for varnished and smooth surfaces, we suggest using a rubber magnet overlay. Because it protects against scratches etc.
For more information about the holder, please visit: https://vikinglighting.com/en/akcesorium/magnet-holder-105mm/
Summary
In summary, we must admit that durability and bright light allowed us to illuminate the horses during animal care and work in the stable. After checking the lighting in the stable, the employees were satisfied. Horses too…
Producer