2023-03-23
RETTmobil 2023
Fulda, Germany
booth C-919
May 10-12, 2023
RETTmobile
RETTmobil 2023 is the international rescue show, which is very popular among paramedics and rescuers.
It is worth mentioning the fact that the first fair was held in 2001.
So more than twenty years have passed since the fair in Fulda developed to fully fledged rescue fairs.
Firstly, over the years, the cells hosted more than 500 exhibitors and 30,000 visitors from Germany and other countries.
Secondly, the success of RETTmobil comes from focusing on the special equipment including vehicles and the modern technique.
Also, you may find there the newest protective and hygienic equipment including clothing.
The fair is addressing the needs of the fire brigades, rescue, fire protection and civil defense forces.
Therefore, if you are in Fulda, you would have the unique opportunity to obtain information directly from professionals.
Concluding, we emphasize that professionals are of the opinion that the RETTmobil is almost obligatory for everyone dealing with rescue.
VIKING Lighting in Fulda
The VIKING LIGHTING's booth is C919 at the RettMobil the international rescue show.
Address: Paul-Klee-Strasse 74, 36041 Fulda, Germany
Dates: May 10-12, 2023
So, we invite you to get acquainted with our latest VIKING LIGHTING system which will be presented in Fulda.
https://www.rettmobil-international.com/en/exhibitors/list-of-exhibitors/
Combat proven lighting 
Summarizing, we recommend VIKING lighting because it is 'combat proven'. 
Therefore, we can say so because it has been used in real-life action on low ground, strong winds and snowstorms.
It is known and operated by many dependent services and civil defense that use it in situations.
Although users come from different countries on several continents, but most commonly it used in Sweden, Germany, Japan and France in natural disasters.
In addition, the area of ​​the construction events were illuminated. For example the structure collapses, and similar disasters where intervention of auxiliary services was necessary.
Due to its efficiency, we recommend VIKING Lighting L220 LED with battery backup for use of the rescuers.
The reason behind is that it is especially useful for use in field applications and in medical tents.
https://vikinglighting.com/pl/produkt/viking-with-battery-backup/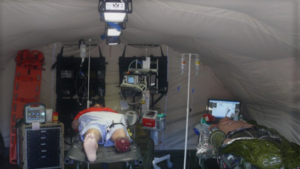 VIKING in medical tent
Producer