2022-05-23
INTERSCHUTZ Hannover, Germany
Hannover, Germany
20 – 25 June 2022
Hall 26, booth D19
INTERSCHUTZ Come and meet us!
What's special about the Interschutz?
VIKING LIGHTING as a manufacturer of lighting for rescue services invites you to the INTERSCHUTZ-2022.
INTERSCHUTZ is the world's leading trade fair for fire and rescue services, civil protection, safety, and security.
Therefore, it is a magnet for companies from all around the world seeking to develop new markets for their solutions.
Firstly, it's also the go-to show for pros wanting to learn about the latest innovations.
Secondly, the visitors and exhibitors can share their expertise with their international peers.
Importantly, INTERSCHUTZ is in a class of its own internationally when it comes to the quality and number of visitors and exhibitors it attracts.
The previous edition of Interschutz has gathered some 150,000 visitors mostly from Germany.
On the other hand, INTERSCHUTZ is very much a business event.
However, in fact, it's a well-known event for the world's providers of fire and rescue services, civil protection, and safety and security solutions.
Because of that, anyone who wants to learn about the latest developments of products, including lighting for rescue services is heading to Hannover for INTERSCHUTZ in June.
What's new from VIKING LIGHTING for the rescue teams?
So, VIKING LIGHTING is very excited to participate in the Interschutz exhibition for the first time.
Our lighting product for rescue services is the model VIKING LIGHTING L230 LED IP54 Motion Sensor, Plug,  and Socket of Unischuko style are also in IP54. https://vikinglighting.com/language/en/produkt/led-lighting-with-motion-sensor-type-l230/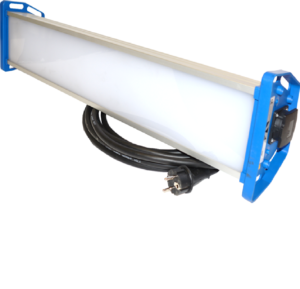 This VIKING LIGHTING is equipped with a motion sensor that is sensitive to movements in the darkness.
For instance, we strongly recommend it as a standard-issue lighting product dedicated to rescuing teams for use on disaster sites or field medical points.
For example, lighting can be mounted on a container shelter, so the light switches on when the person is approaching.
VIKING LIGHTING has been tested in high and low temperatures resistant –VIKING LIGHTING with an LED light source.
Therefore, it can efficiently work in temperatures from minus 30°C to plus 50°C.
The lighting is made in a rugged aluminum case with end-pieces of shock-absorbing SBS.
Typically, we offer lamps with motion sensors in the IP54 class. However, a higher class is also feasible.
The lighting can be used outdoors because humidity and water are splashproof, hit-, damage-, and vibration-resistant.
Summing up -all those features make the lighting durable.
Additional features
An oil-proof cable of 10 meters in length makes the VIKING Lighting® flexible to use outdoors and indoors.
Please note that VIKING LIGHTING can be used efficiently indoors because of its low heat emission.
We secure your comfort of work with no glaring lighting.
Moreover, there is a possibility of a daisy chain.
As a result, one can easily connect several VIKING LIGHTING that may be linked together with an extra socket.
For whom do we make VIKING LIGHTING?
VIKING LIGHTING has been invented in Sweden in 1989. Later, Teknoprod AB is the lighting manufacturer.
Since then, our lighting is commonly used by civil and defense users in Sweden.
Our lighting equipment and accessories are dedicated to professional users who work in rough conditions.
Therefore, VIKING LIGHTING is a perfect solution for the rescue and civil defense sector, warehouses, civil and military tents, shelters,
workshops, and the construction industry for example equipment rental companies.
As a result of the success in the Nordics, VIKING LIGHTING has become popular in other countries in the world.
Especially where the type of work requires bright light and working conditions are extreme.
Usually, the VIKING Lighting brand is associated with tent lighting.
In addition, since we are the lighting manufacturer, we can introduce modifications and changes required by the user.
Consequently, our lighting for rescue services can be customized according to the specification of the customer.
Where to find us?
Visitor address: Hannover Exhibition Grounds, Messegelände, 30521 Hannover, Germany
Dates: 20 – 25 June 2022
VIKING LIGHTING invites you to our stand in Hall 26, booth D19 INTERSCHUTZ.
Invitations: please contact andre@teknoprod.se for free entrance vouchers.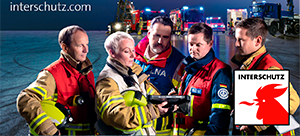 INTERSCHUTZ Come and meet us!
Producer