2020-03-26
VIKING LIGHTING equipped French temporary hospitals with special lamps
Miluza, East France. Military hospital for #COVID-19
The French army has equipped its military-medical tents with VIKING LIGHTING. In order to cope with the #CoronaVirus, the French authorities have developed temporary hospitals located in tents. The special medical tents have been supplied with VIKING LIGHTING. VIKING LIGHTING is a source of bright but glare-free light. The light stream is shadeless. In effect of these features, the work of medical personnel is more comfortable. We encourage to watch the TVN24 spot. https://tvn24.pl/swiat/pandemia-covid-19-szpitale-polowe-na-swiecie-budowane-do-walki-z-koronawirusem-4513885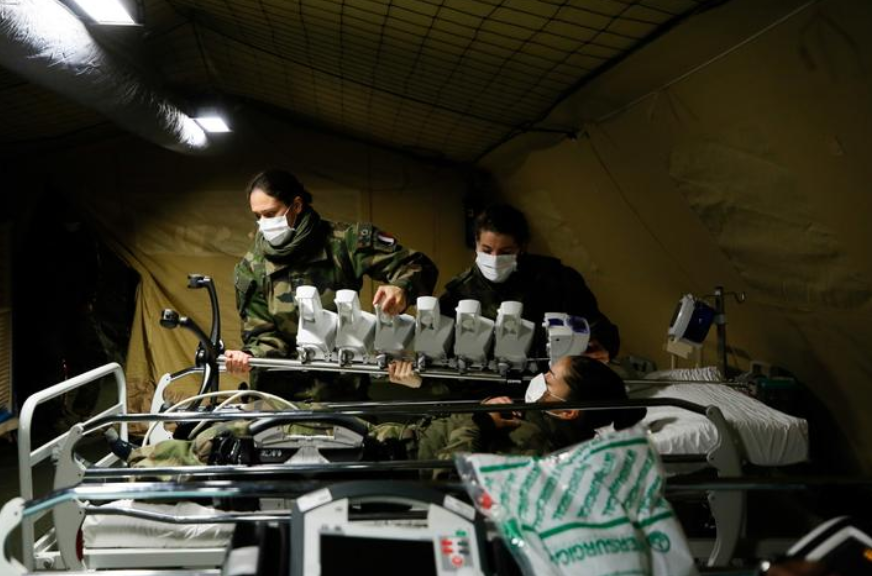 In connection with the #koronavirus epidemic, French armed forces are setting up some field hospitals. Field hospitals are already developed in Miluza and Malhouse.
Hospital tents have sections for patient registration and treatment. VIKING Lighting has been used in field hospitals for over 20 years. The portable lightweight lamp holder is very often used as temporary lighting.
Depending on the customer's requirements, and in the case of field hospitals, the requirements of the army, Viking lighting can have a LED light source or traditional fluorescent tubes.
The aluminum housing does not heat up and therefore the lighting is safe. Medical services appreciate bright, white light worth 4000K, which is the equivalent of natural light. The lamp has a milky shade that helps the doctors and medical personnel because they are not exposed to the glaring effect. The light generated by VIKING Lighting is shadowless. In effect of that feature, it is easier to take care of patients and perform minor medical procedures.
In medical tents and field hospitals, VIKING Lighting is daisy-chained. This is possible thanks to an additional plug mounted on the lamp housing. The plug allows you to connect one lamp to another.
We usually also supply additional power cords, extension cords, and adapters to the conditions of the place where the lamps are used.
Teknoprod AB is the producer of VIKING Lighting and provides lamps with plugs and contacts adapted to your region/country.
VIKING LIGHTING equipped military hospitals with special lamps. Lighting used in field hospitals in France has plugs adapted to the French standards.
See also