VIKING LIGHTING IP65
Art. nr. V226023266310/A
VIKING LIGHTING  IP65
VIKING LIGHTING L226 in IP65 versions guarantees protection against touching parts not protected with wire.
In addition, the IP65 class provides full dustproof protection and protection against water jets with an intensity of 12.5 l/min poured from each side.
Similar, to our other lighting fixtures this one can be used for outdoor work.
They can be mounted on a stand or even stand directly on the ground, without fear of damage or contact with dangerous parts.
The solution shown in the photo includes a metal stand art No 306865 https://vikinglighting.com/en/akcesorium/metal-rack-for-viking-lighting/.
Thanks to the components used, this type of lighting i.e. L226 IP65 can be used in extreme temperatures (up to minus 40 degrees C).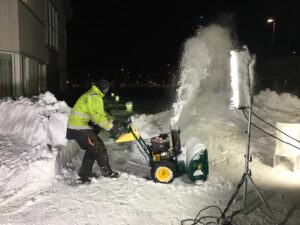 Light Color / Temperature

White/4000 K

Life length for light sources

50000 h

Measurements (mm)

600x175x109

Luminous flow

8600 lm nominal

Colour Rendering Index

>80

Plug/Socket

Unischuko Military