Akcesoria
Mounting straps L=800mm
Art. nr. 106865/A
MOUNTING STRAPS LENGTH 800MM
These type of straps is the lighting accessory which fits any type of VIKING Lighting.
Consequently, they are very often used in medical and military tents and shelters.
The reason behind it's popularity is that the mounting straps allow you to attach VIKING Lighting to the tent sheathing.
Straps are made of textile and the fastening is made of a durable plastic.
Therefore, this accessory is long lasting.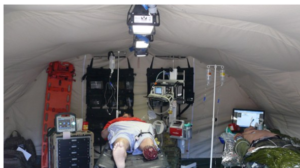 VIKING Lighting in field hospital – level 1
The VIKING Lighting which is popular among the users of tents
We must admit that these lamps together with lighting accessories are typically used by rescue teams or medical personnel.
Therefore, the professionals choose the VIKING Lighting LED type L212 for many years.
Mostly, because it is a lightweight but durable lighting piece.
Please note that our lighting fixture can be mounted in a tent on a mounting straps.
That is why mounting straps are the easiest and fastest solution to firmly place the lighting at the tent ceiling.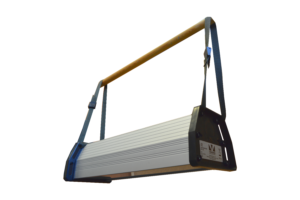 For more information on LED lamps please see:  https://vikinglighting.com/en/produkt/viking-l212110-230vac/
In addition, it is worth of mentioning that the VIKING Lighting has been combat-proven.
Meaning that the several rescue teams from different countries on a few continents in natural disasters.
The typical natural disasters are earthquakes, heavy winds, and heavy snow.
However, VIKING Lighting has been used also during accidents, as well as construction collapse.
Therefore, it's well-known in Sweden, Germany, Japan, and France or Armenia.
Please note that the VIKING Lighting and its accessories has a history of more than 30 years https://www.msb.se/en/operations/international-operations/.
Advantages of VIKING Lighting
Moreover, the light is shadowless. Therefore, it can be efficiently used in medical tents with the mounting straps.
We have used the opal diffuser. As a result of use of the milky cover, doctors and medical staff are not exposed to the glare effect.
This effect is commonly referred to as 'blinding'.
In addition, there are other features such as the lightweight aluminum housing which protect the lighting from heating up.
In conclusion, it has to be noted that the medical services appreciate natural light. VIKING Lighting gives a bright, white light with a value of 4000°K. Please note that this value corresponds to the parameters of natural light.
In conclusion we recommend VIKING Lighting as a medical tent lighting.