Akcesoria
Universal holder
Art. nr. 203865/A
UNIVERSAL  HOLDER
The metal lamp holder allows you to fix VIKING lamps, for example, in a workshop.
Made of durable metal and is equipped with shock-resistant reinforced plastic knobs.
This type of holder can be efficiently used outdoors and indoors, too.
Thanks to this accessory, you can easily and safely mount VIKING LIGHTING lighting on a metal stand or other surface.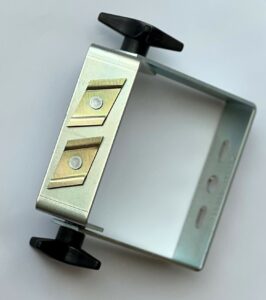 Universal holder is an accessory which is typically used with the metal stand for the VIKING Lighting.
By attaching the metal holder to a lighting fixture you can easily place it on a metal stand.
https://vikinglighting.com/en/akcesorium/metal-rack-for-viking-lighting/
Wheather proof lighting equipment
As you may see at the picture below, our lighting equipment is weather proof.
We've tested VIKING Lighting for resistance to high and low temperatures.
VIKING Lighting with an LED light source works at temperatures minus 30° C to 50° C.
Therefore, VIKING lighting is a long-lasting piece of equipment.
Our lighting can be connected to power by the 10-meter-long oil-resistant cable.
All the above features make VIKING Lighting practical for outdoors works.
Additional advantages 
Everyone who needs bright light outdoors can use VIKING Lighting indoors due to low heat emission.
For VIKING, we use milky shades. Thus, in effect, we manufacture glare-free lighting.
In this way can ensure the comfort of work.
Moreover, the lamps can be easily arranged in series because a few lighting pieces can be connected with an additional socket.
The length of the lighting chain depends on the type of cable.
For example, for cable 3G1.5 you can connect 25 fixtures of VIKING LIGHTING in one row.
Please note that the socket is on the opposite side of the cable.
However, there can be a different assembly where we can put the socket and the cable outlet on one side of the fixture.
In addition, at the customer's order, we can deliver a lighting piece with the cable in the PCV coating or the cable with the screen protection.