RETTmobil 2023
2023-03-23
Fulda, Germany
booth C-919
May 10-12, 2023
RETTmobile
RETTmobil 2023 is the international rescue show, which is very popular among paramedics and rescuers.
It is worth mentioning the fact that the first fair was held in 2001.
So more than twenty years have passed since the fair in Fulda developed to fully fledged rescue fairs.
Firstly, over the years, the cells hosted more than 500 exhibitors and 30,000 visitors from Germany and other countries.
Secondly, the success of RETTmobil comes from focusing on the special equipment including vehicles and the modern technique.
Also you may find there the newest protective and hygienic equipment including clothing.
The fair is addressing the needs of the fire brigades, rescue, fire protection and civil defense forces.
Therefore, if you are in Fulda, you would have the unique opportunity to obtain information directly from professionals.
Concluding, we emphasize that professionals are of the opinion that the RETTmobil is almost obligatory for everyone dealing with rescue.
Tickets
https://www.rettmobil-international.com/en/visitors/tickets/
VIKING Lighting in Fulda
VIKING LIGHTING's booth  C919.
Address: Paul-Klee-Strasse 74, 36041 Fulda, Germany
Dates: May 10-12, 2023
We invite you to get acquainted with our latest VIKING LIGHTING system which will be presented in Fulda.
https://www.rettmobil-international.com/en/exhibitors/list-of-exhibitors/
Combat proven lighting 
We recommend VIKING lighting because it is 'combat proven'.
Therefore, we can say so because it has been used in real-life action on low ground, strong winds and snowstorms.
It is known and operated by many dependent services and civil defense that use it in situations.
Although users come from different countries on several continents, but most commonly it used in Sweden, Germany, Japan and France in natural disasters.
In addition, the area of ​​the construction events were illuminated. For example the structure collapses, and similar disasters where intervention of auxiliary services was necessary.
Due to its efficiency, we recommend VIKING Lighting L220 LED with battery backup for use of the rescuers.
The reason behind is that it is especially useful for use in field applications and in medical tents.
https://vikinglighting.com/pl/produkt/viking-with-battery-backup/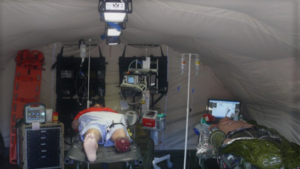 VIKING in medical tent
VIKING LIGHTING supports the field hospital
2020-04-10
Lisbon, Portugal
April 2020
#COVID-19
Support in the fight with #COVID-19
VIKING LIGHTING supported the field hospital in Portugal in 2020. The VIKING LIGHTING manufacturer actively supports the creation of a field hospital in Portugal. In support, VIKING LIGHTING sent portable lighting kits to Lisbon. #TODOSPORUMHOSPITAL is an initiative of Cruz de Malta Portugal, which together with the RTP (Portuguese TV), seeks donations for the construction of a temporary hospital with more than 200 beds to strengthen the local reference unit in the fight against #COVID-19.
Public donations #TODOSPORUMHOSPITAL
Portuguese organization Cruz De Malta together with the television RTP has organized a public collection of donations. The aim is to encourage people and companies who want to support Portuguese Health and National Security Professionals. Therefore, they seek donations for the construction of a Field Hospital with more than 200 beds. As a result, it will be easier to fight against COVID-19 in Lisbon, Portugal.
VIKING LIGHTING supported the field hospital
VIKING LIGHTING is well known for its portable lighting sets. Because of that, we have delivered our LED VIKING Lighting sets to the newly established medical points in Lisbon.
The setting up of this field hospital will be done within Campo Pequeno. Its management will be under the coordination of Hospital Curry Cabral. The field hospital will operate within Campo Pequeno and its management will be coordinated by Hospital Curry Cabral.
In 2020, during the containment phase of the coronavirus pandemic, Curry Cabral Hospital (together with Hospital de Dona Estefânia for Pediatric Cases in Lisbon and Hospital de São João in Porto) was one of the three first-line reference hospitals for the diagnosis and treatment of COVID-19 19. Later, many more second-line hospitals were opened across the country until the mitigation phase.
Curry Cabral Hospital is managing to meet the needs in the Lisbon area now. However, they need equipment, such as the 26 field tents, with a capacity for 200 beds. Cruz de Malta, with the help of all, will allow medical personnel to treat more patients. Similar to other countries, in Portugal, the number of suffering from #COVID-19 is still very high.
Why it is worth having VIKING Lighting in medical tents?
Doctors and nurses need to work in a comfortable light environment. With the use of VIKING LIGHTING, they can do their daily routines efficiently. Moreover, they can run some medical procedures like injections.
Even though the patients and medical personnel are in tents, the VIKING LIGHTING gives them a white bright light. Most importantly, the unique feature is glare-free lighting. This is important for those who work long hours and are engaged in activities where precision is required.
[caption id="attachment_2455" align="alignnone" width="219"]
Viking Lighting in the medical tents of Cruz de Malta
[/caption]
VIKING LIGHTING can be easily moved from one place to another. In addition, the lighting can be mounted in tents or at the masts. Please see some applications of mast sets https://vikinglighting.com/en/akcesorium/tripode-mast-yellow/
We encourage everyone to support the #TodosPorumHospital !
For more information please see: https://media.rtp.pt/extra/eventos/todosporumhospital/