Viking Lighting with a motion sensor
Art. nr. L230323205100
VIKING LIGHTING WITH A MOTION SENSOR
TYPE L230, IP54
Excellent LED lighting for the construction industry
VIKING Lighting type L230 LED lighting with a motion sensor, protection class IP54.
This lighting is our lamp dedicated to the construction industry.
In this VIKING Lighting, we have installed a special motion sensor that is sensitive to movements in the dark.
Because of that, we strongly recommend it for use on construction sites.
The lamp automatically turns on when a person approaches.
It will not turn on with small animals moving.
A construction worker can mount lighting with a motion sensor on the construction site on the container, even on the magnetic holder such as https://vikinglighting.com/language/en/akcesorium/magnet-holder-105mm/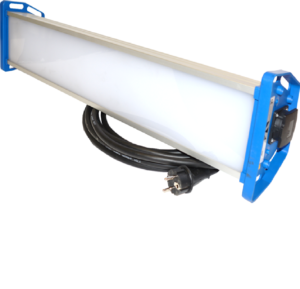 L230 motion sensor
Outdoor or indoor
The building contractor can use the lighting both indoors and outdoors.
The lighting is light but durable aluminum housing with side covers made of shock-absorbing SBS material.
We've developed a case which is IP54.
For that reason, this product is resistant to moisture and splash, mud, impact, damage, and vibration.
We've tested VIKING Lighting for resistance to high and low temperatures.
VIKING Lighting with an LED light source works at temperatures minus 30° C to 50° C.
Therefore, VIKING lighting is a long-lasting piece of equipment.
Our lighting can be connected to power by the 10-meter-long oil-resistant cable.
All the above features make VIKING Lighting practical on the construction site.
Everyone who needs bright light outdoors can use VIKING Lighting indoors due to low heat emission.
For VIKING, we use milky shades. Thus, in effect, we manufacture glare-free lighting.
In this way can ensure the comfort of work.
Moreover, the lamps can be easily arranged in series – a few lighting pieces can be connected with an additional socket.
Possible customizations of motion sensor lighting
Our lighting equipment and accessories have been designed for professional users.
We have made it for those who work under challenging conditions.
Because of that, VIKING Lighting with a motion sensor is ideal for the construction industry.
For example, developers and construction equipment rentals often use VIKING Lighting quite often.
As a result, for many years, we have delivered LED lighting to warehouses, shelters, and civil and military tents.
On top of that, we recommend the L230 LED outdoor because we use it ourselves on our premises.
Because we are the manufacturer, we can make modifications and changes required by the customer or the user.
Please contact us for further information and quotes: https://vikinglighting.com/language/sv/call-us-today/
Case study
Once we have been contacted by the construction equipment company, which experienced some cases of missing machinery on the site.
The machinery has been stored in metal containers outdoors. The company did not have the resources to hire 24/7 surveillance.
Therefore, we have suggested to the customer the lighting set is mounted outdoors through magnet holders on containers.
Soon it appeared that the light switched on when the animals, such as roe-deer's, approached the construction site.
In conclusion, our engineers have developed a motion sensor that is sensitive to moving humans and remain silent when the animals are approaching.
The customer was happy with the solution because his machinery was safe.
We were satisfied that we could find a solution to help our customers.
Light Color / Temperature

Biała / 4000K

Life length for light sources

40 000h

Measurements (mm)

750X180X128

Luminous flow

9240 lm nominalny

Colour Rendering Index

Ra 77

Cabel

5m, H05RN-F or H07RN-F

Plug/Socket

230V Schuco type, other national standards to order

Approvals

CCA (CENELEC) & CE